We are Team DM. We exist to deliver Additive Manufacturing AM 2.0 technologies, materials, and applications that enable mass production.
Novel designs, rapid iteration, and innovative business models
---
Additive manufacturing allows for rapid functional prototyping of complex automotive components and the creation of on-demand tooling - increasing design flexibility, shortening product development timelines, and streamlining production.
The technology also enables new business models and supply chains based on localized production, digital warehouses and the on-demand production of both custom components and spare parts.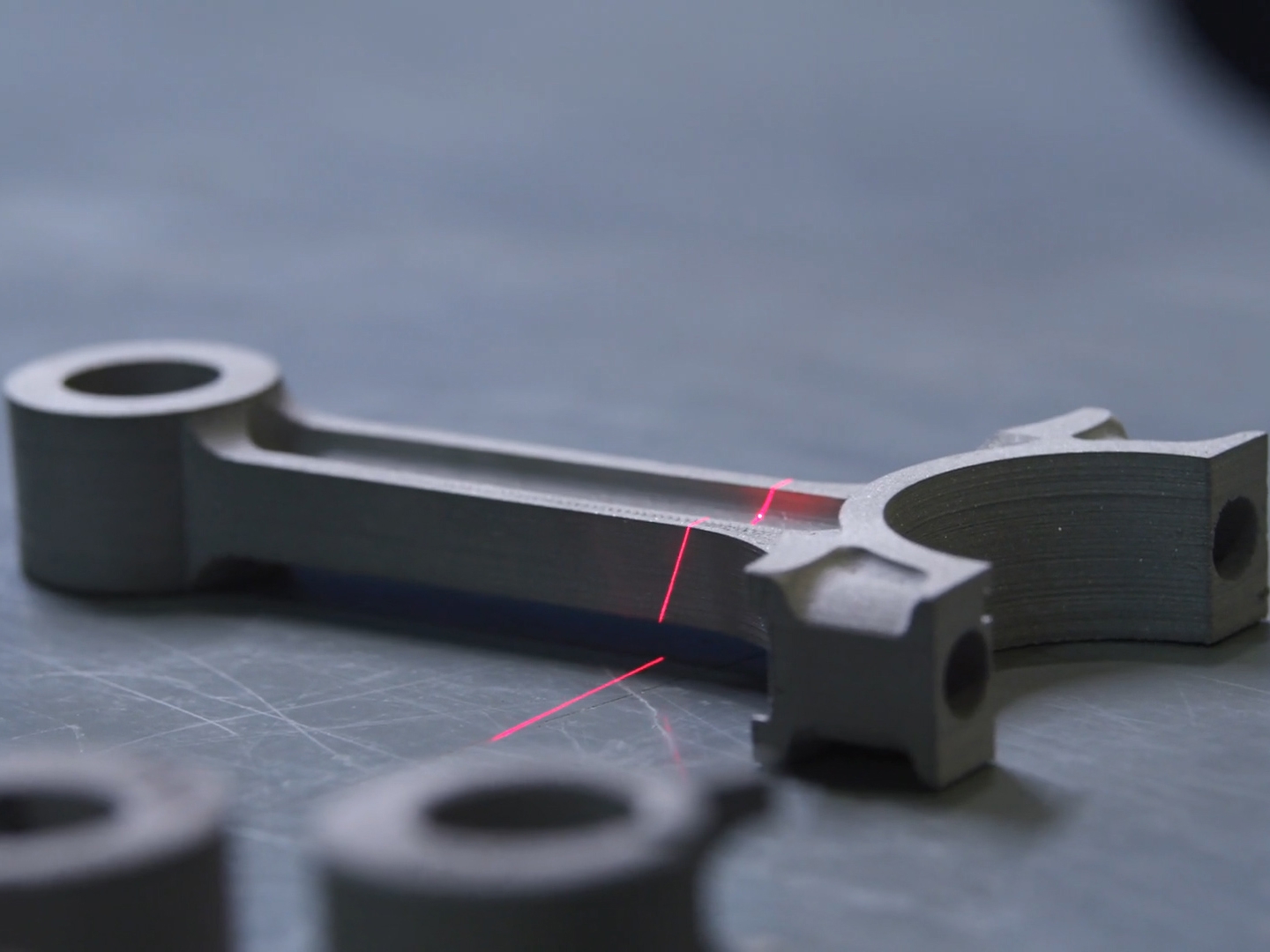 Bringing new innovations to auto manufacturing
With the Studio System, Ford continues to be a pioneer in the use of new manufacturing technology, and is exploring the use of metal 3D printing for everything from functional prototyping to creating manufacturing aids to producing limited runs of production parts.
Learn More
Advancing automotive manufacturing
Our customers are leaders in the world of automotive manufacturing, and are using Desktop Metal technology to explore next-generation manufacturing solutions.
Part Gallery
3D printing enables a vast array of automotive parts and applications — saving time and money at all stages of production.
---

Generative Piston Head

4140

Prototype piston head for a reciprocating engine, optimized with generative design.

---

This output pulley is an essential component of the reclining mechanism in a car seat.

---

This connecting rod transmits power from the piston head to the crankshaft in a combustion engine.

---

Shock Absorber Pistons

17-4 PH

This piston is used in a shock absorber to provide dampening over uneven surfaces.

---

Thermostat housing on a vintage Mercedes Benz engine.

---

An example of mass customization, this textured gear shift knob can be printed to customer specifications.

---

Found on a BMW hill climb car, this duct reroutes air from the front of the car to cool its brakes.

---

Parking Shift Bracket

17-4 PH

This bracket is used in the parking brake assembly of a continuously variable transmission.

---

Killacycle Coupling

17-4 PH

This part is a taper lock coupling designed for a high-end, custom motorcycle.

---

This heat shield protects the surrounding area of the car from hot exhaust.

---

This part attaches a rear-view mirror to the roll cage on a BMW race car.

---

This clutch plate connects an electric motor to the crankshaft to start a motorcycle.

---

The waterwheel is an integral part of the BMW's engine cooling system.

---

This custom manufacturing fixture was created for use on an Audi production line.

---

Power Steering Joint

17-4 PH

This joint is designed to power transfer in an electric power steering system.