We are Team DM. We exist to deliver Additive Manufacturing AM 2.0 technologies, materials, and applications that enable mass production.
Office-friendly metal 3D printing in just 2 steps — Print. Sinter.
Available Now.

Order Now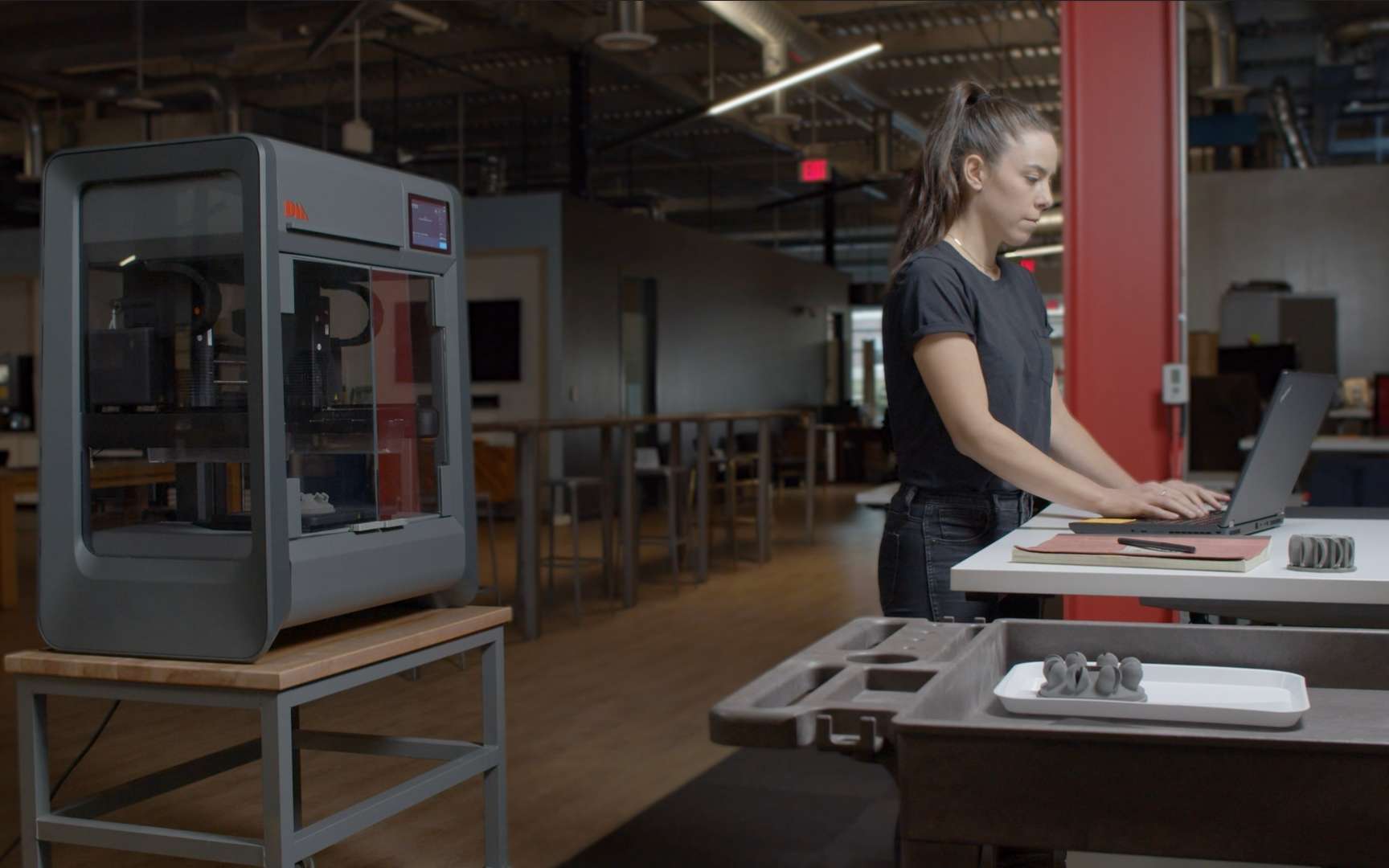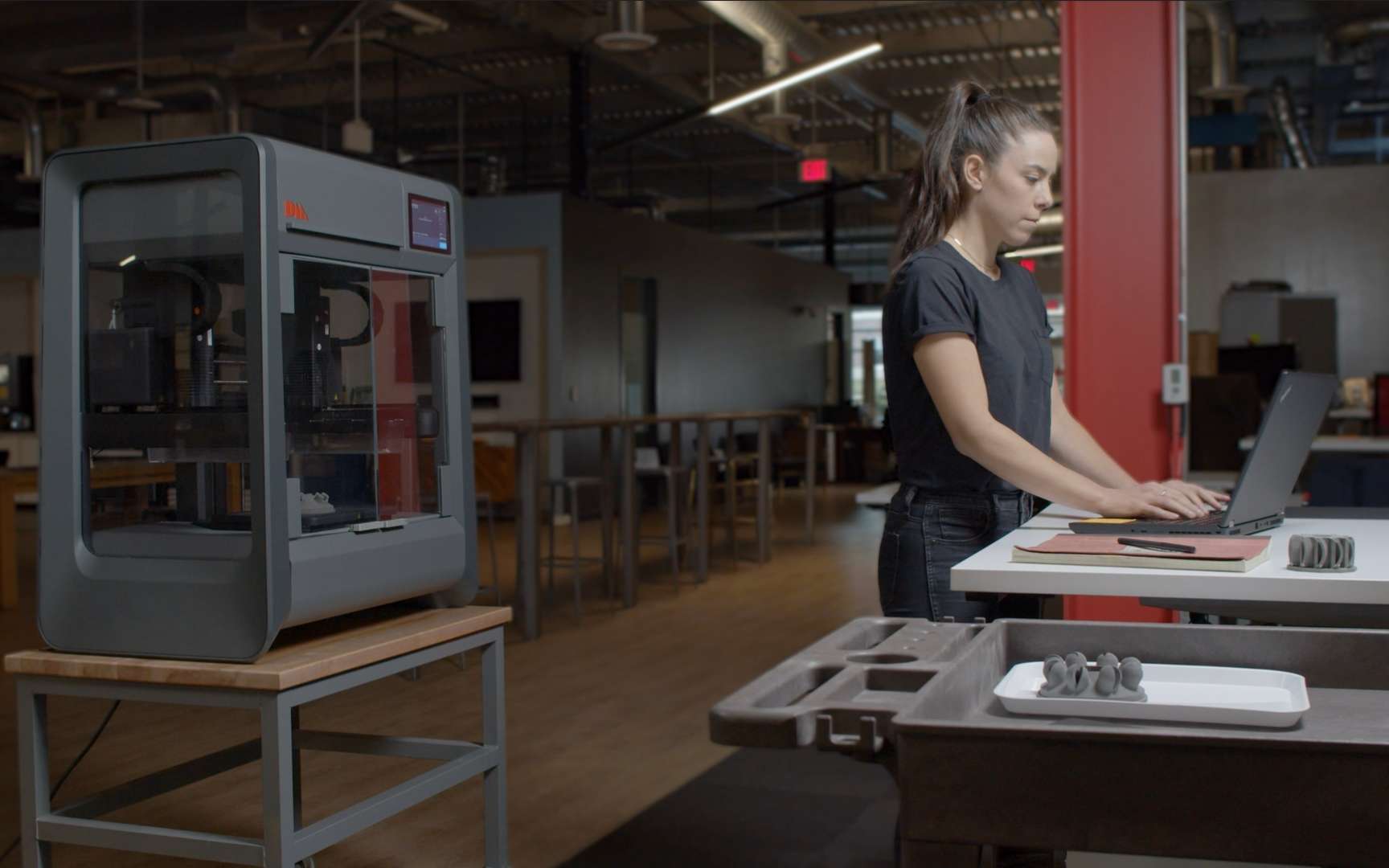 — 01

Easy, two-step processing

— 02

High-quality parts

— 03

Designed for the office
How it works
The Studio System 2 is a two-part solution that streamlines metal 3D printing. Simply load your CAD file into Live Studio, our proprietary software, print your part, and place it in the furnace for sintering.
Prep

---

Secure, web-based software constructs build plans from STL or CAD files, automatically generating supports and control parameters based on part geometry and material.

Print

---

Layer by layer, a green part is shaped by extruding bound metal rods—metal powder held together by polymer binders—in a process called Bound Metal Deposition™.

Sinter

---

Once printed, parts are placed in the furnace. As the part is heated to temperatures near melting, binder is removed and metal particles fuse together causing the part to densify up to 98%.
Part gallery
_Studio System™ applications
Studio System™ applications span a variety of industries including manufacturing, tooling, automotive, consumer, electronics, and oil & gas.
---

This die is used in the manufacture of extruded plastic framing.

---

One of six types of movable objects used in the game of chess.

---

This burner tip is used to shape the flame in industrial burners.

---

Custom designed golf putter is an example of the customization that is possible with 3D printing.

---

This flower nozzle is used to atomize fluid in industrial equipment.

---

This impeller is used to control the pressure and flow of fluids in equipment like pumps and compressors.

---

Sheet Metal Embosser

4140

This custom embosser is used in sheet metal fabrication.

---

This part is an Injection mold insert for manufacturing zinc zippers.

---

This part attaches wheels to a skateboard deck, and was optimized using generative design tools

---

Master Drilling Sun Gear

17-4 PH

This part is a sun gear used in a planetary gearbox for an earth-drilling machine.

---

Mold insert is used to injection mold medical inhaler mouthpieces.

---

UMC End Effectors

17-4 PH

These grippers are used to fixture and move aerospace forgings on a manufacturing line.

---

APG Thread Checker Fixture

17-4 PH

This fixture pushes a thread checker into a part on a manufacturing line.

---

BattleBots Bot Support

17-4 PH

This part is a structural member for use in the bot's robotic arm.

---

This part is used to hold a workpiece in place during machining lathe operations.

---

O-Ring End Effector

17-4 PH

This end effector is used to stretch and install O-rings on a hydraulic fitting.

---

This fixture is used to achieve critical tolerances on metal injection molded (MIM) parts.

---

Helical Heat Exchanger

Copper

Used in chemical processing to cool a hot gas as it flows through a pipe.

---

This part is a fuel atomizer for a steam boiler on a liquid natural gas (LNG) tanker.

---

Example of the unique jewelry that can be customized and scaled for a tailored fit.

---

This part is a replacement gear for vintage (circa 1940) lathe.

---

This manifold is used to combine three flows into one common flow.

---

Generative Piston Head

4140

Prototype piston head for a reciprocating engine, optimized with generative design.

---

This is part of the housing for a hydraulic pump.

---

The guitar tailpiece anchors one end of the guitar strings.

---

Example of the unique jewelry that can be customized and scaled for a tailored fit.
Applications by Industry
Explore applications for 3D printing across a range of industries.

1. Unlike comparable metal 3D printing systems, Studio System™ 2 eliminates loose metal powders and features a two-step process (no solvent debind required) and features Separable Supports technology with strategic splits for hand-removable supports, hot swappable cartridges and removable printheads to make material changes easy, and a fully software-controlled workflow.

2. Statements made regarding respiratory PPE are specific to requirements for operating the Studio System. We recommend all users consult local authorities regarding PPE for COVID-19 protection.