We are Team DM. We exist to deliver Additive Manufacturing AM 2.0 technologies, materials, and applications that enable mass production.
_Articles
The Shop System: Reduce Costs, Increase Revenue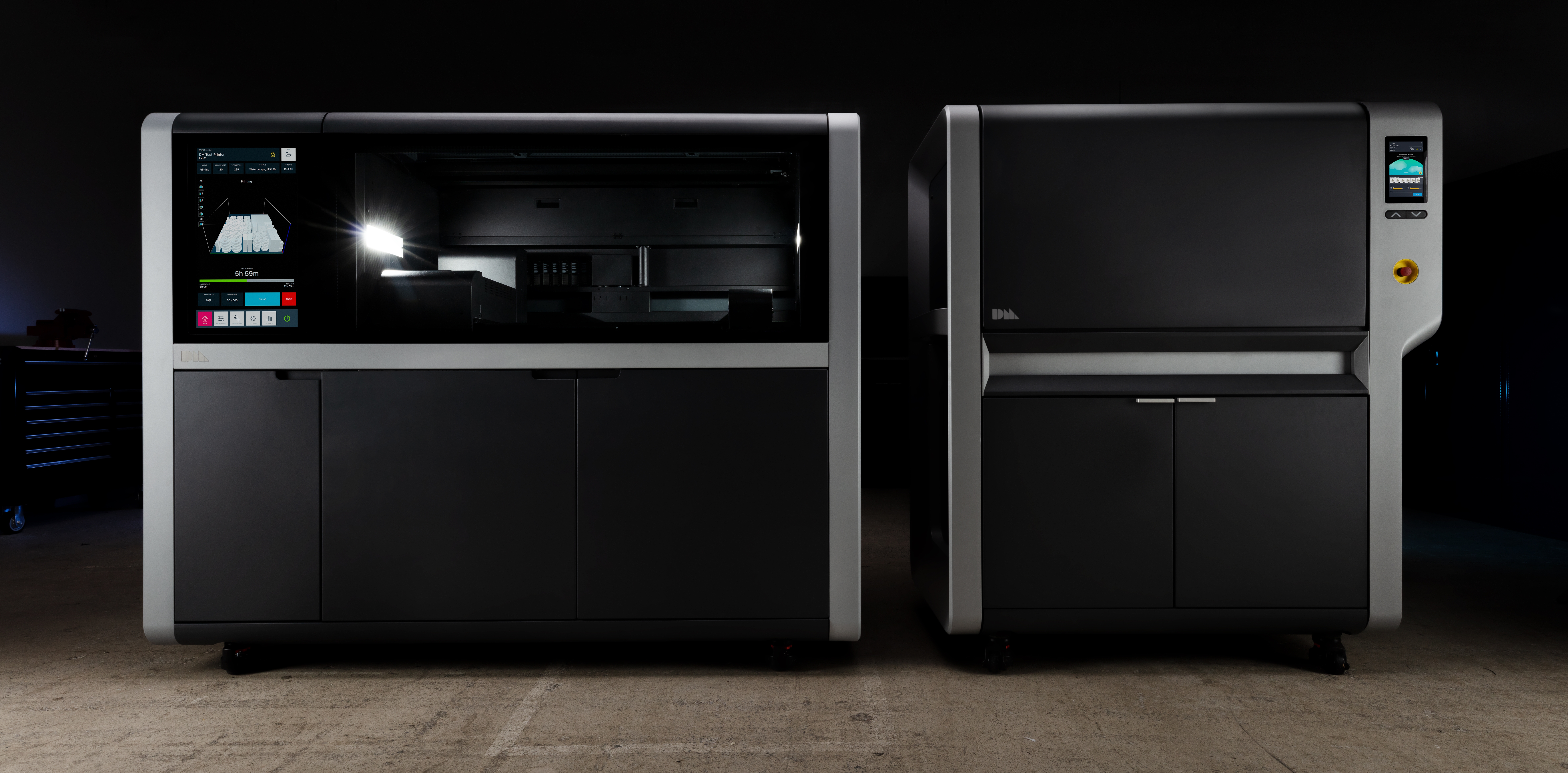 The world's first metal binder jetting system designed for machine shops, the Shop System is capable of printing complex metal parts with the benefits that standards machine shops expect: unparalleled productivity with superior print quality while maintaining high levels of accessibility throughout the entire process.
In addition to process and product innovations, exceptional productivity, print quality and reliability, the Shop System delivers another key benefit - the ability to both reduce costs and increase revenue.
The Shop System's unparalleled productivity - as much 70 kg of metal parts can be printed in a single day - allows it to deliver per-part costs that are competitive with traditional manufacturing methods like casting and forging, making the system a viable option to produce end-use metal parts across a wide range of industries and applications.


Reduced Cost
The tooling-free nature of metal 3D printing means manufacturers do not need to factor tool amortization into part costs. For many quantities of parts, this leads to significant per-part savings, since tooling costs often add up to tens of thousands of dollars. While machining can sometimes be done with a significantly smaller investment in tooling, 3D printing still produces cost saving by reducing wear on cutting tools, and the minimal operator burden associated with printing parts saves on labor costs.
Printing also dramatically reduces the number of steps involved in manufacturing, building parts layer by layer, as opposed to machining, where different features may require multiple machines and orientations. Similarly, entire builds can be set up in just one to two hours, regardless of the number of parts and complexity. Fixturing for each machined part, meanwhile, must be carefully considered and implemented, a process that requires hours for each unique geometry.

Increased Revenue
By enabling the creation of parts with features that would previously have been unattainable and allowing for batch production of parts with different geometries, the Shop System can help machine shops win new business and unlock new revenue streams. The system also makes it easy for users to quickly and reliably predict part costs and quote jobs, helping shops win more bids.

Once orders do come in, the Shop System dramatically reduces lead times for many components. Prints can begin almost immediately, and hundreds of parts can be produced over night, allowing shops to quickly deliver parts to customers in just days, and freeing up capacity for new jobs
The elimination of tooling and the ability to simultaneously print jobs for multiple customers in a single build also makes small- and medium-sized jobs more economically-viable, allowing powder metal manufacturers to offer smaller jobs to customers at much lower per-part costs and lead times. This means that part cost stays the same whether you print 1 or 1,000 parts.
Part Examples
Part Example:
Seatbelt pulley
This output pulley is an essential component of the retracting mechanism in a car seat belt.

This part features an undercut radial groove that, without printing, would require advanced sliders during the press-and-sinter process. Printed on the Shop System eliminates the cost and complexities associated with complex press and sinter tooling.


*Costing and Throughput for 16L Shop System without Setters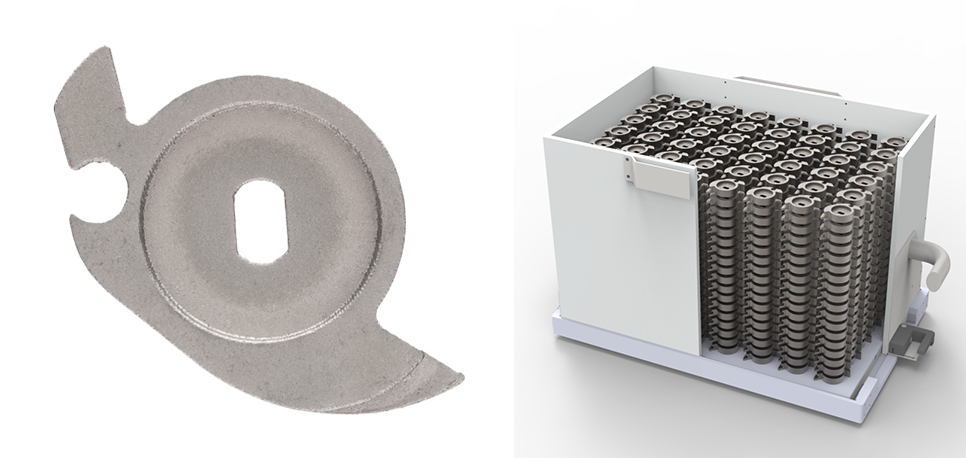 Part example:
Adapter
This adapter is used to hold a gyro sensor in place in a rotating machine component.
To create this part's features across multiple planes via traditional manufacturing would require extensive machining as well as multiple fixturing set ups and orientations.
The designer only needed to produce these adapters in a low quantity (≈1,000 pieces.) The lower volume of this part makes it infeasible to justify the capital for permanent machining fixtures or molds for metal injection molding. Using the Shop System, all of the parts could be produced in about a week.



*Costing and Throughput for 16L Shop System without Setters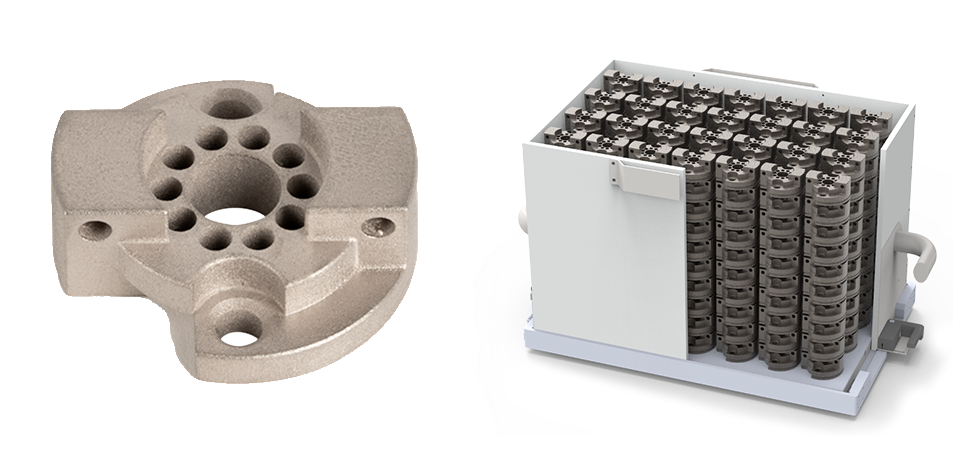 Part example:
Down Hole Tool Slip
This part provides a frictional hold between a packer and a pre-existing pipe during oil extraction.
A consumable that is lost after pumping is complete, it is essential to keep the price and lead time for this part as low as possible. The Shop System allows this part to be manufactured with an accelerated lead time and at lower cost than traditional manufacturing. The system's tooling-free nature means the design can be easily changed to fit different pumping scenarios. Just modify the CAD file and send it to print.
*Costing and Throughput for 16L Shop System without Setters