We are Team DM. We exist to deliver Additive Manufacturing AM 2.0 technologies, materials, and applications that enable mass production.
_Articles
Metal 3D Printing Production Stories: The Shop System Delivers Binder Jetting Success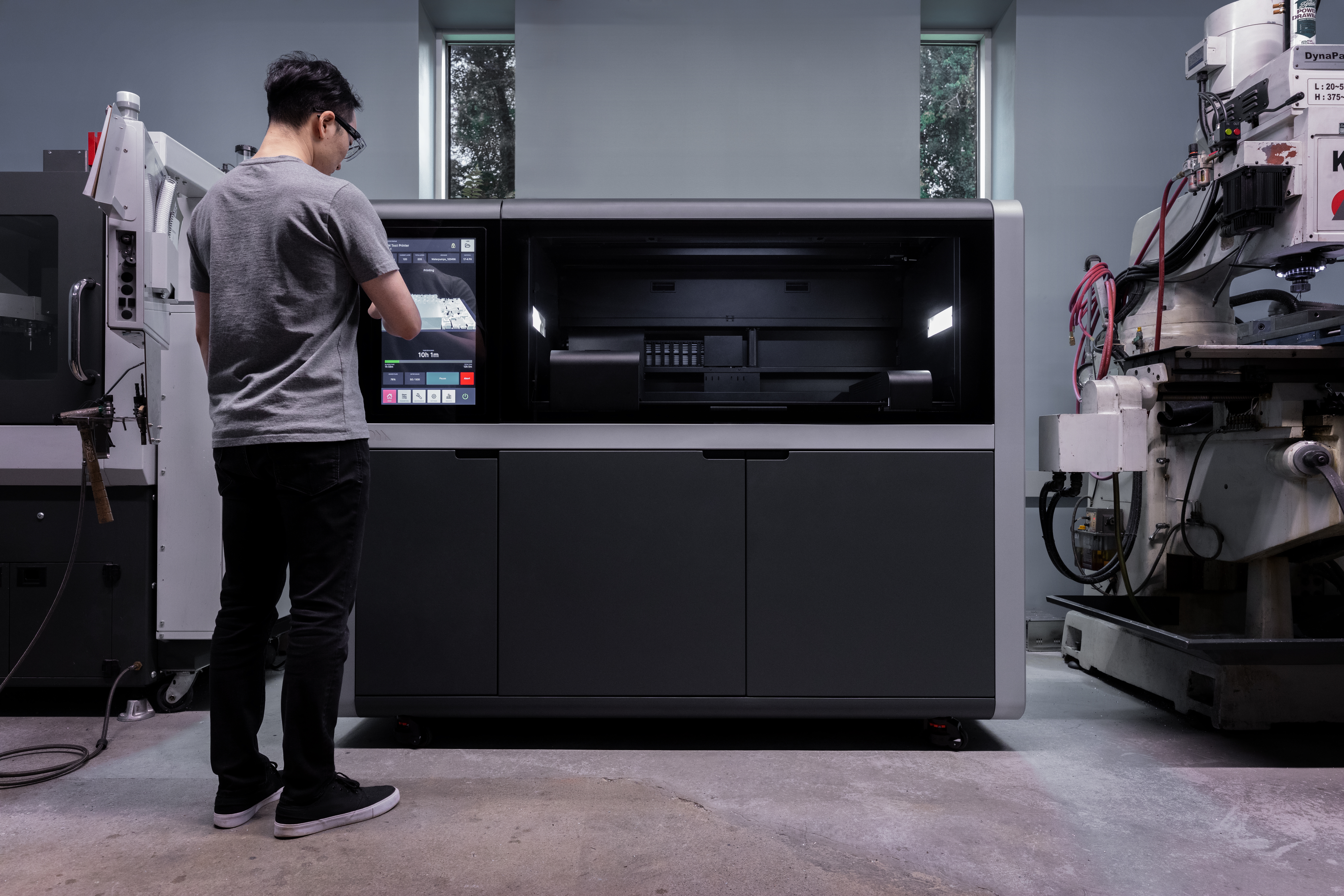 From the outset, the Desktop Metal Shop System aimed to make mid-volume binder jet 3D printing available to manufacturers like machine and metal job shops in an easy, turnkey package. In the years since its introduction, the system has more than delivered on that promise. The best selling metal binder jetting system on the market, the Shop System has customers around the globe that are transforming their operations with advanced, digital manufacturing. Here are three of their stories:

Take One Make One lean supply chain strategy with qualified production on the Shop System
Because traditional production manufacturing processes, such as machining, investment casting or metal injection molding (MIM) often involve long lead times that cause weeks-long production delays, Azoth 3D specializes in manufacturing precision parts by leveraging production-capable additive technologies. The company uses the Desktop Metal Shop System for metal binder jet 3D printing to create prototypes, run pilot builds, and go to production all on the same machine and without tooling. This allows Azoth to shorten lead times for stainless steel parts from as long as four weeks to just 10-15 days, while also printing multiple iterations, allowing for faster testing and design refinement.
Azoth uses binder jetting as part of a comprehensive supply chain management solution that empowers its customers to convert physical inventory to digital inventory and produce parts as needed without a minimum order quantity to justify up-front tooling or setup costs. The Take One Make One (TOMO) strategy eliminates supply chain disruptions with qualified production of metal components on demand.
These bolt placement grippers shown below are installed into a robot arm to pick and place bolts on an assembly line - thousands of pieces per day. While these parts look like they would be simple to machine, the intricate teeth in the design would require fine detail machining and multiple tool switches to complete.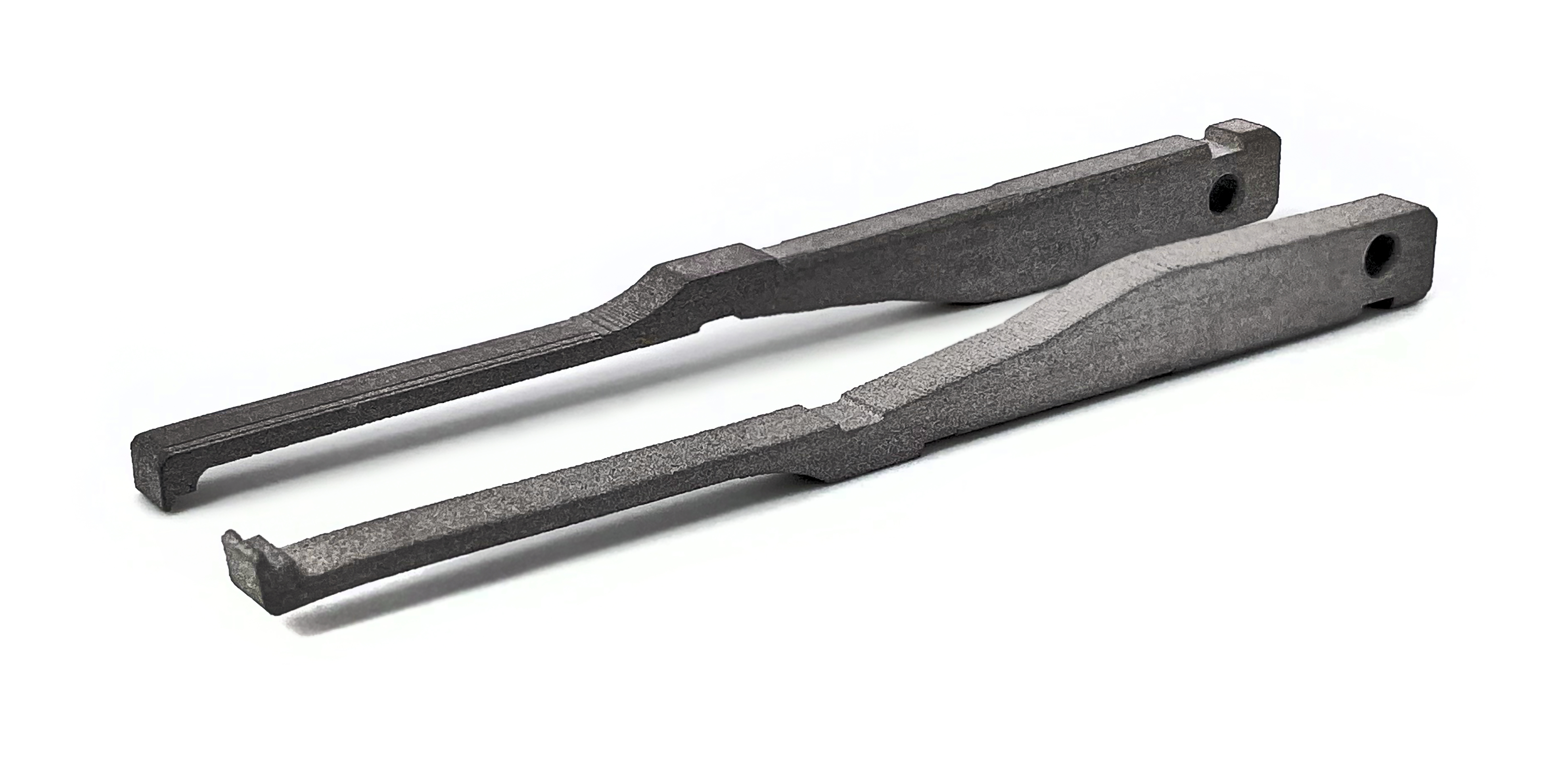 These grippers are the perfect TOMO example, they are more cost effective with binder jetting and can be delivered with a 10-day turnaround vs an eight-week lead time."
Using the shop system for mid-volume production, Azoth is able to produce 1400 of these end use parts per day in 17-4PH heat treated to H900 to replace the traditionally machined tool steel components.

Sintering distortion and compensation software for metal 3D printing success with the Shop System
ABCorp is one of the longest standing manufacturing service providers in the United States with a history dating back over two centuries and a 225,000 square foot facility in Boston featuring vertically integrated production for a variety of products. After gaining experience with polymers, the company turned to the Desktop Metal Shop System for its first metal 3D printing machine to make end-use parts in a functional production environment.
In addition to the easy-to-use Shop System, a key component to the out-of-the-box success of ABCorp's binder jetting operations is Live Sinter, Desktop Metal's manufacturing preparation software that provides advanced simulation tools to predict and correct for errors when sintering 3D printed parts.

One of my biggest worries investing in this technology was the furnace and the frustration of failing that far into the process during sintering, using Live Sinter, I'm blown away at our success with the sintering furnace."
Rather than printing a part straight to have it warp out of spec, Live Sinter™ prints a negative offset that will sinter to meet dimensional tolerances, enabling unique distortion compensation that helps ABCorp increase success rates and reduce costs. "I don't have to use sintering supports anymore, so I don't have to charge for supports. I use Live Sinter for everything and it makes it more competitive," Glazebrook said.
With traditional binder jetting production, the overhangs of the connectors of this prosthetic weight shown below would require support inside the furnace. Using Live Sinter to simulate the warpage and distortion during sintering, ABCorp is able to 3D print a negative offset geometry that sinters straight.


3D printing frees up machining capacity with efficient production of in-house tooling solutions
Jade Groupe produces luxury fashion accessories exclusively for the renowned consumer product group LVMH Moët Hennessy Louis Vuitton. The company houses the entire production cycle in its various metal workshops, from injection molding and polishing to electrochemical plating and quality control. Essential for production, jigs and fixtures needed for a variety of products require expensive tooling and come with long lead times that can delay getting finished products to market.

The high demand on tools, jigs, fixtures, and other mechanical devices overloads the dedicated workshop and as a consequence, the lead time is very high, affecting production efficiency. Desktop Metal systems speed up our production process by absolving a percentage of that CNC workload."
As the market for luxury items expands, custom hardware is essential to establish unique branding and to signal quality. By embracing additive manufacturing, Jade Groupe is able to produce value-added hardware from custom tooling without the investment and long lead times of traditional production.
This wrench adapter shown below was needed to standardize the process of sealing a furnace door on a production line. This seemingly minor step was crucial, since an entire sinter run would be at risk of failure if the pressure applied on the seal was inaccurate. Digital production on the Desktop Metal Shop System meant the team could quickly create a part to solve its specific production problem without disrupting CNC production or ordering an off-the-shelf part. Optimizing the design of this wrench adapter for binder jetting nearly halved the weight and in-house production allowed for better process control.